2019 Honest Bucker Pinot Grigio Cans - 4-Pack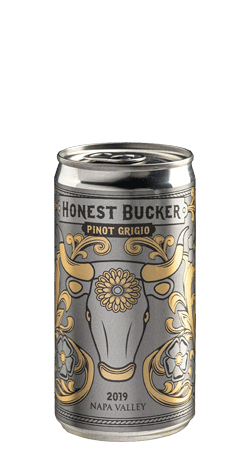 Like an honest bucker, this wine comes out of the chute the same way every time. No surprises, no dirty tricks. Just a big mouthful of white wine goodness from Napa Valley. And now this bucker comes in a can, so you can saddle up with a four-pack, enjoy it from the stands, or take it with you wherever you ride. No bull.
Vintage – AKA: What We Were Working With
Winter rains in 2019 filled up the reservoirs and gave the soils plenty of moisture. A long, warm summer with foggy mornings and sunny afternoons set the stage for vibrant, fruity wines. Harvest was long and mild, helping to preserve freshness and finesse in the fruit. The grapes for this wine were grown in the cool Oak Knoll region of Napa Valley.

Winemaking – AKA: What We Made Of It
Pinot Grigio grapes are thin-skinned, so we sent 'em directly to the press in whole fruit clusters to gently extract clear, beautiful juice. The juice fermented to wine in small, stainless steel tanks at a cool temperature in our cellar, retaining the varietal's delicate fruit character and bright acidity. The wine took a breather (aka aged) in tank for several months before we canned it up.

Tasting Notes – AKA: What To Look For
This youngster is fresh and fruity, featuring honeyed notes of citrus and melon and delicate florals including apple blossom, honeysuckle and jasmine. It's a crisp, refreshing ride on the palate, ideal for cooling off during or after the show.
Note: One 4-Pack = One of those regular wine bottles
---
Silver Medal
2021 Rodeo Uncorked! International Wine Competition
Houston Livestock Show and Rodeo